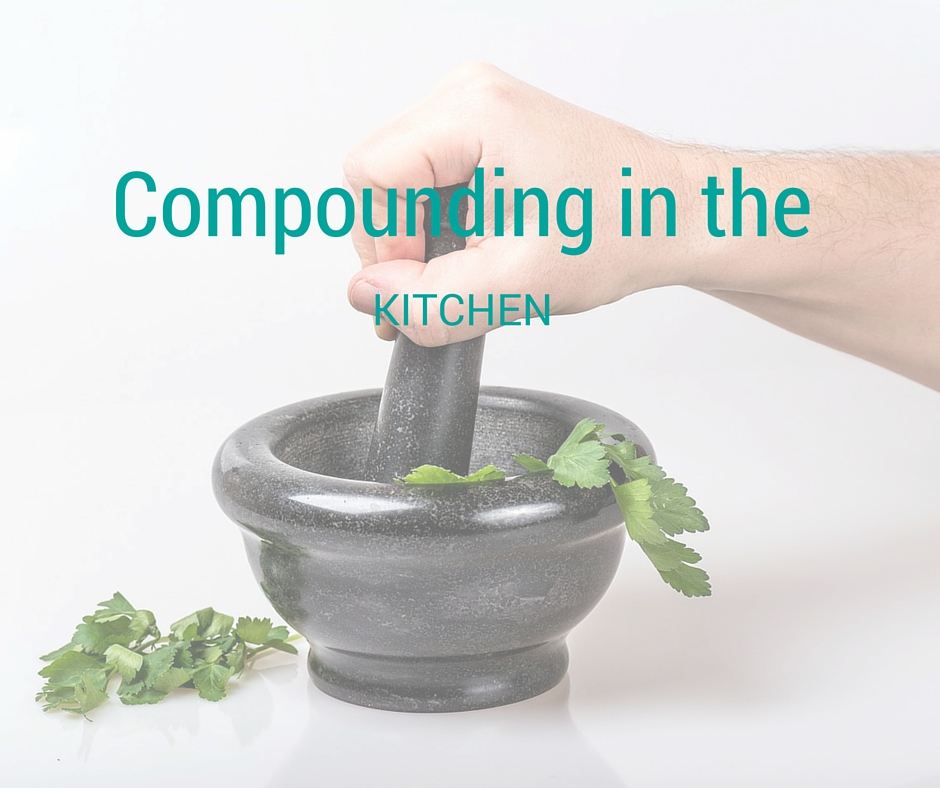 At first glance, it is likely that you would think that there is not much of a connection between a compounding pharmacy and the kitchen in your own home. But, if you really stop to think about it, they are maybe not so different after all. A compounding pharmacy is a specialized pharmacy that creates personalized, particular pharmaceutical products especially designed to fit the individual needs of a unique patient. In other words, compounding pharmacists are taking separate and individual ingredients, and combining them together in certain ways to come up with something completely different, perfectly tailored and suited to the needs of an individual.
Sound familiar? We thought so, too. 
As it turns out, the same skills and passions that our pharmacists use to create compounded medications for you, your family, or even your pet, can be similarly used in the kitchen, combining separate ingredients together to make something entirely different and completely wonderful. Compounding in the kitchen can be not only a great hobby, but a total stress relief, as well. Read on to find out more.
In the same ways that our pharmacists regularly carefully measure, compound, pour and then check a variety of drugs, you can handle everyday ingredients in your own kitchen. Believe it or not, this can turn into a passion and excitement that can lead to a fulfillment you didn't even know that you needed, bringing satisfaction in all areas of your daily life. Truly, this is a delicious combination.
Kitchen Compounding with Pacifica Pharmacy
Blending our two loves together (pharmacy and experimenting in the kitchen) began by collecting new cookbooks and recipes from tried and true sources — just enough to whet our appetites, so to speak. This also gave us the perfect excuse to sharpen up and update our cooking utensils… and who doesn't love a good excuse to shop?
Utilizing the same skills we use in the pharmacy, we soon being to gain confidence — enough so, in fact, that we began to think outside of the box to start formulating some of our own recipes, taking every day items that we use in our kitchen and combining them to create something different entirely.
One of our favorite ways to stretch and expand this new skill is creating eco friendly, green, DIY cleaning products, perfect for using throughout your home. Believe it or not, the chances are good that you already have everything you need to create some of these cleaning products. Read on to find out how you can transform everyday kitchen staples into safe and effective cleaning supplies.
Multi-Purpose Spray

Ingredients:
Citrus peel (mostly lemon)
1-2 cups white vinegar
15-20 drops of essential oils
Fill a jar of your choice with citrus peels, then top off the jar with white vinegar. Allow the citrus peel to sit in the vinegar for a week, then strain the solution into a spray bottle. Add your favorite essential oils. Shake to mix well. Can be used on a variety of surfaces, but always try a test patch first.
Glass and Floor Cleaner
Ingredients:
1 cup isopropyl alcohol
1 cup white vinegar
1 cup water
15-20 drops of essential oils
Combine the alcohol, white vinegar, and water into a spray bottle, then add the essential oil(s) of your choice. Shake to mix well, and then spray onto glass or floors for a sparkling finish.
Furniture Polish
Ingredients:
¾ cup olive oil
Juice of ¼ lemon
1 T white vinegar
3-4 drops essential oil
Combine all of the ingredients together in the jar of your choice. Wet a cloth and squeeze out the extra water, then dip the cloth into the polish. Wipe onto furniture, and buff with a dry cloth to finish.
Disinfecting Wipes
Ingredients:
1 cup water
¼ cup rubbing alcohol
2 T Dawn dish soap
24 rags, cut into squares or rectangles
Mix all of the ingredients together, and then pour over the rags. Store in an airtight container, and use as you would disposable disinfecting wipes on a variety of surfaces. Bonus: the squares can be washed or laundered, and reused again.
About Pacifica Pharmacy
At Pacifica Pharmacy, our individualized approach to healthcare allows us to focus on each of our patients as an individual, addressing his or her specific pharmaceutical needs. From pain management and sleep aids, to hormone therapy and weight loss, we can help you with whatever concerns you may be having. We even specialize in compounding pharmaceuticals for your furry, four legged family members, too.
To learn more about how our team of compounding pharmacists can help to create a customized solution tailored to fit your specific concern, feel free to contact us. We look forward to hearing from you and working with you and your healthcare provider to design a treatment plan just for you.